M. SPALTEN FINE JEWELRY
Melissa Spalten takes you on a jewelry journey through exotic color palettes and visionary design. Inspired by the beauty of gemstones, organic and cosmic elements, Melissa creates capsule and one of kind collections in 18K and 14K gold.
NEW ARRIVALS
DOUBLE HEART GEMFETTI EARRING
SHOP THE GEM ID BRACELET COLLECTION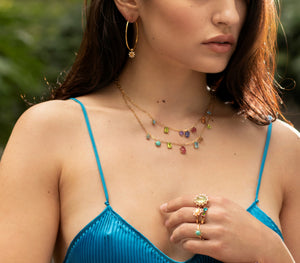 GEMFETTI COLLECTION
CELEBRATION OF GEMSTONES
Completely customizable, The Gemfetti Collection embodies the core of the brand - joyful, colorful jewels in an abundance of gemstones.

" I was inspired to create a fun and wearable collection that can be made to order by choosing your own gemstone layout. Customizing jewelry creates a strong connection with you and the piece"
- Melissa Spalten